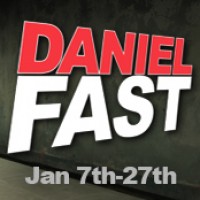 21 Day Daniel Fast
By Pastor Dave | December 18, 2012
Our annual 21 Day Daniel Fast begins January 7 - 27th!
We are excited to begin the new year once again with 21 Days of Prayer & Fasting. The Daniel Fast is a biblically based partial fast. In Daniel 1 and 10 Daniel only ate vegetables and fruits and drank only water to honor the Lord. Solid Rock wants to honor God by fasting at the beginning of the year from meat, sweets, dairy and other "choice" foods.
FAST AS A SPIRITUAL COMMITMENT
BEFORE BEGINNING THE FAST, WRITE DOWN A PLAN AND MAKE A VERBAL COMMITMENT TO THE LORD.
WRITE DOWN THE SPECIFIC THINGS YOU WILL BE PRAYING AND FASTING ABOUT.
Here are some quotes taken from members of Solid Rock who have done the 21 Days of Prayer & Fasting in past years:
~God is so faithful! After months of no work, the phone is finally starting to ring again. Jobs are booked out until March. We were able to make our first mortgage payment after three months without work.~
~I have a seriously long way to go, but I see God's grace and mercy pervading my thoughts and encouraging me!~
~WOW - I'm reading scripture with a whole new perspective. It's amazing and I'm not sure I can put into words the difference and depth. I've just 'heard' God and really begged to hear Him on a more constant intimate level
and He's answered me.~
~My prayer life has gone nuts!~
~A chronic leg pain that has gone on for years went away within minutes of praying!~
~I've asked Him to cleanse me and show me my sins - He does that. I've asked Him to give me HIS desires and He really has.~
~I've decided to extend my fast to 40 days. I LOVE this closeness and don't want it to end!!! I don't love being on the fast, but I love the connection and motivation.~
These are just a few of the comments people have sent to me regarding the 21 Days of Prayer and Fasting. GET READY church for God to do some awesome miracles in your life that will blow you away!
*If you want to know more about the Daniel Fast and the foods associated with it here are a couple good websites to check out: http://danielfast.wordpress.com/daniel-fast-food-list/ or http://www.daniel-fast.com/index.html.
Back