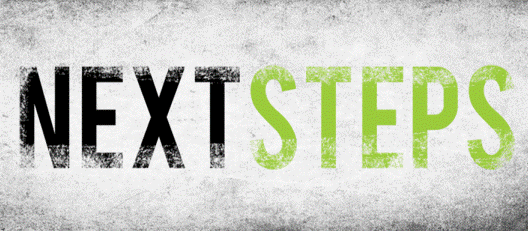 OK - now that you've decided to follow Jesus and you've made Solid Rock your church home - now what? We want to help you on your journey from just getting to know Jesus to becoming a fully devoted follower of Him. Along the way there are a few steps we encourage you to take that will help you on this journey.
NEXT STEPS GET BAPTIZED SOLID ROCK 101 SERVE COMMUNITY GROUPS

1. Attend Church Regularly
Coming together on a weekly basis to experience God is so important to our spiritual growth. We want you to get involved and make new friendships as well as begin to grow in your walk with the Lord.
2. Develop a Bible reading Plan
We believe the Bible is God's Word. It lays out the path for us to learn more about God and His truths for our everyday life. Here's a great place to help you get started:
CLICK HERE
3. Start talking with God
God wants a relationship with us! Through prayer, He desires to give us direction, comfort and hear our greatest hopes and fears. Having regular conversations with Him deepens our relationship with Him.

4. Get Baptized
The Bible makes it very clear we need to go public with our faith, to publicly declare Jesus Christ as the Lord of our lives. If you are ready to take that step,
CLICK HERE
to learn more about getting baptized.
5. Attend Solid Rock 101
Ready to take the next step and find out more about Solid Rock? Come to Solid Rock 101 and hear the heart of our pastor and get a chance to ask some questions about our church. We serve an an informal lunch and offer a great opportunity to meet other new people at Solid Rock. If you would like to attend our next scheduled Solid Rock 101 please
CLICK HERE
6. Get in a Growth Group
We were not meant to walk this life alone. At Solid Rock we want everyone to develop friendships. Growth Groups are a wonderful way to encourage one another, pray for one another, and pursue your faith together. We offer many groups for you to choose from to help you grow in your relationship with Jesus.
CLICK HERE
to learn more about Growth Groups.
7. Serve
Many volunteers are needed to make Solid Rock happen. We need your help working together to create an environment for people to experience God. Click
CLICK HERE
to learn more about opportunities where you can begin to serve.